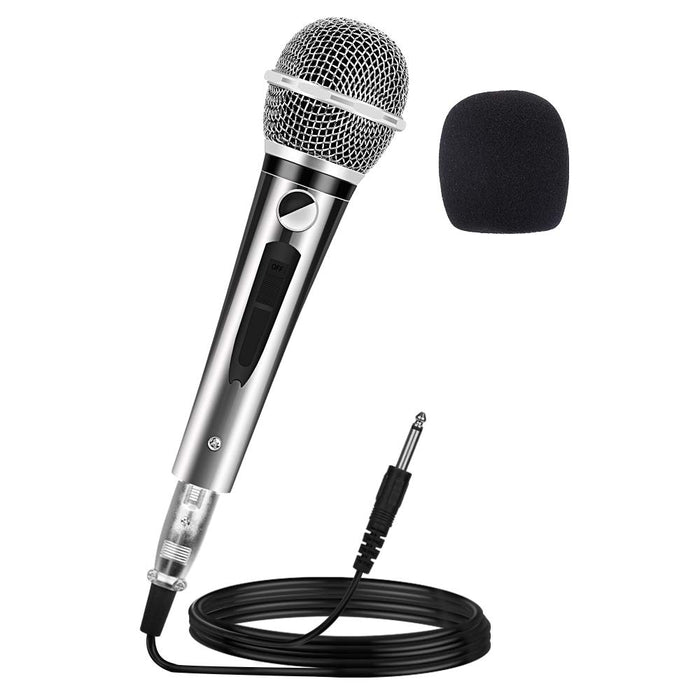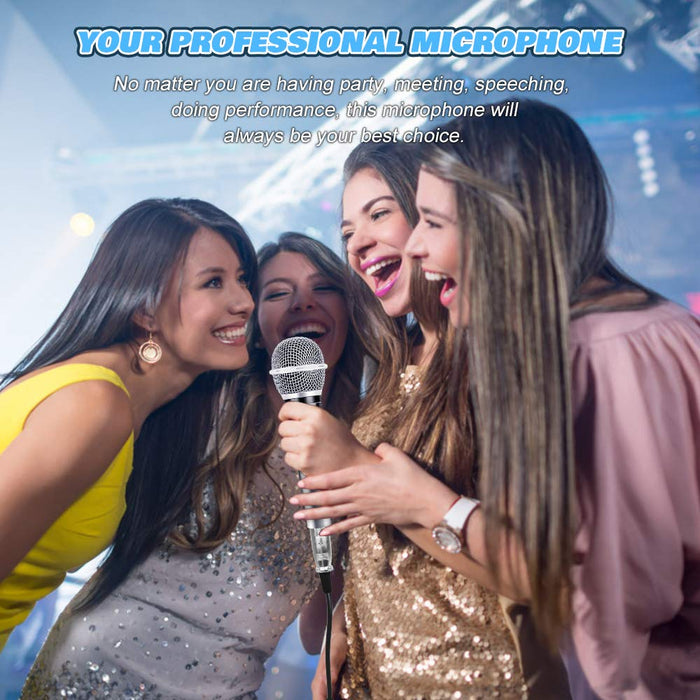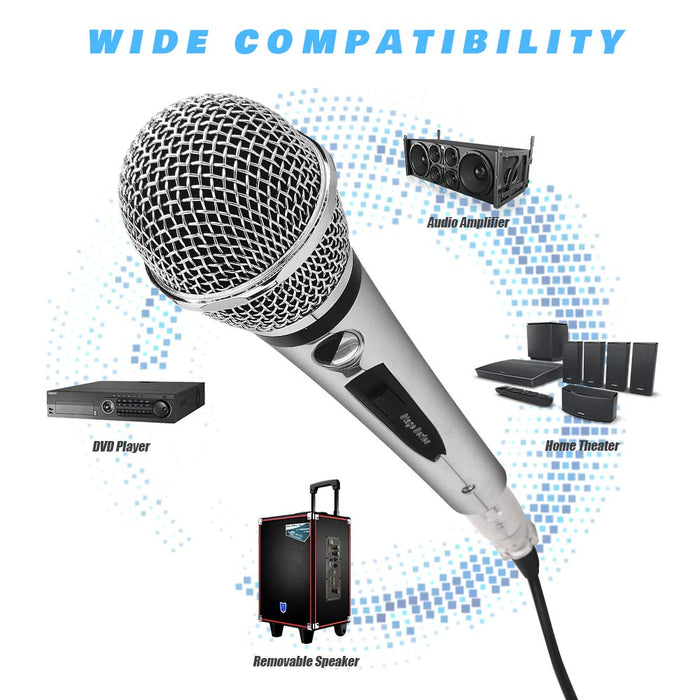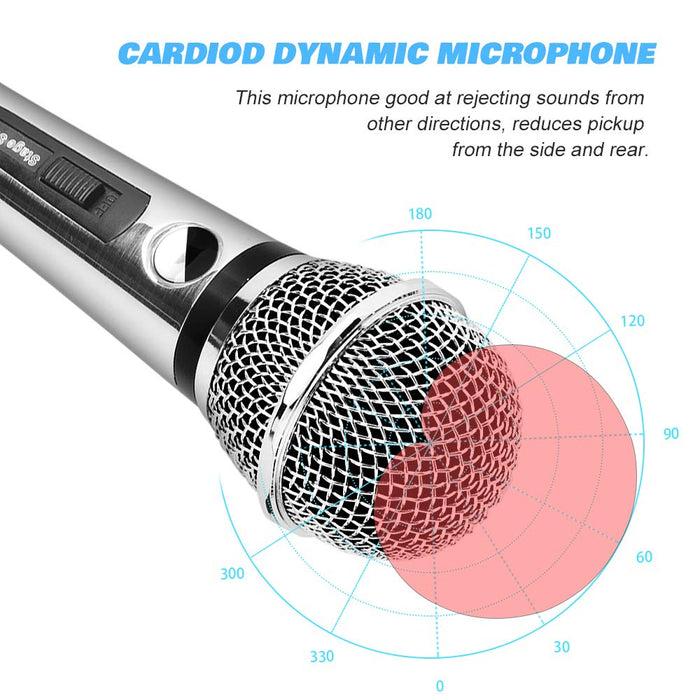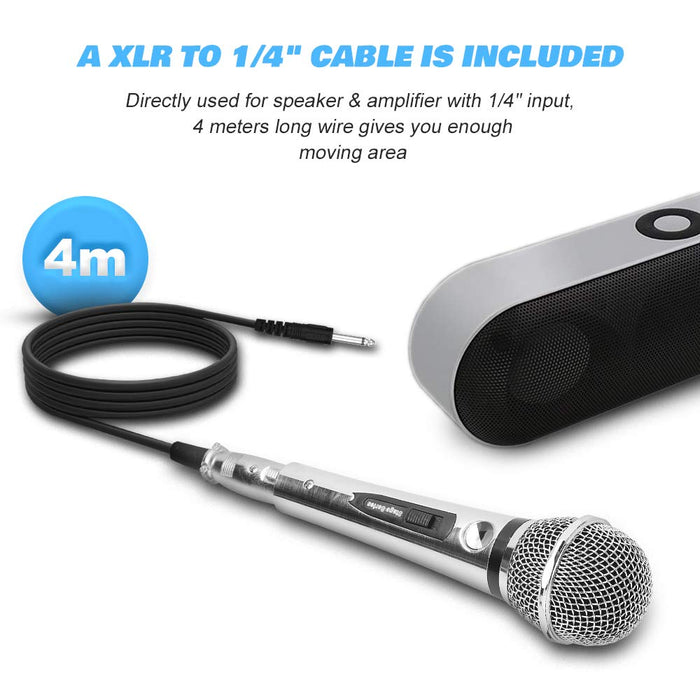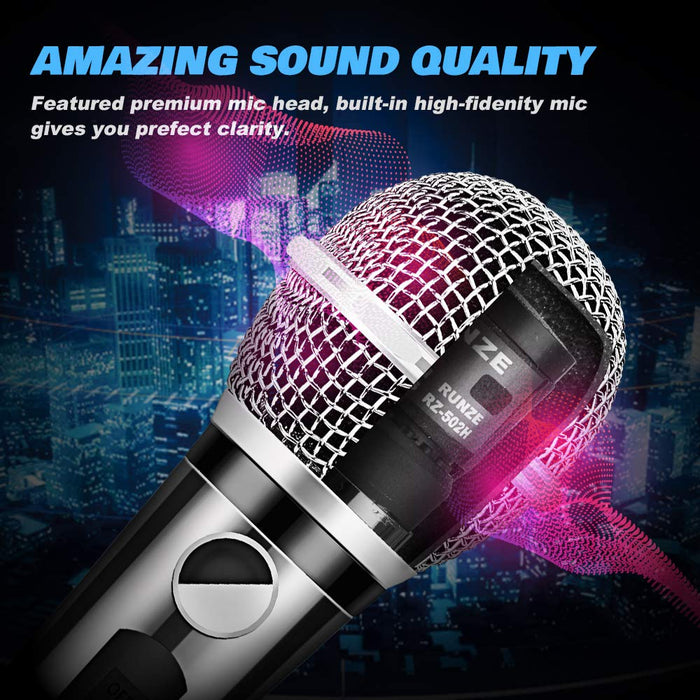 AK-W Wired Dynamic Karaoke Microphones, Professional Handheld Vocal Mic with 13ft 6.35mm XLR Audio Cable Compatible with Karaoke Machine/Speaker/Amp/Mixer for Singing, Speech, Wedding, Stage
Color: silver
Features:
WIRED KARAOKE MICROPHONE -- Uni Directional Dynamic Microphone applied advanced technology, efficiently reduced the noise, also enlarged the dynamic range, which ensured you will get perfect performance while you are using it.
FULL METAL STRUCTURE -- This Wired Microphone comes with all metal body, super smooth touch and stable structure, metal mesh head with inbuilt foam layer can effectively reduce the handing noise.
EASY TO OPERATE -- This professional wired dynamic microphones come with an XLR 4 meters long cable with can directly plug to 6.35mm input, fully supports various devices, such as DVD, television, KTV audio, reverberator, mixer, tour bus, etc.
WIDE APPLICATION -- Ankuka wired microphone is your ideal choice, perfect for professional KTV, stage performance, business meeting, family or friend party, outdoor performances, etc.
WHAT YOU GET -- 1 x Ankuka handheld dynamic microphone, 1 x 4m XLR to 6.35mm cable, 1 x windscreen, 1 x user's manual, Ankuka lifetime support.
Details: Wired Pro Vocal Dynamic Microphones for Indoor and Outdoor Party and Singing

Multiple Device Supported
The microphones can be connected with various devices, such as Audio Amplifier, Home Theater, Audio Mixer, DVD Player, Removable Speaker, etc.
XLR Connection
XLR connection enables balanced sudio signals and supports all equipments.
Wide Application Perfect for professional KTV, stage performance, business meeting, family or friend party, indoor and outdoor activities, etc.

Notes:
1.Insert microphones plug in the microphone "MIC" socket
2.Keep far away between the microphones and loudspeaker.
3.Take the microphones 5-10cm distance to your mouth to avoid noise.

What's in the Box?
1 x Microphones
1 x XLR cable
1 x Windscreen Foam Cover
1 x User Guide
Package Dimensions: 9.3 x 4.4 x 2.8 inches